Gay San Diego: The Latest
The Hotel Gaythering held an Art Basel show called Art Gaysel, featuring thirty-plus artists, each in their own room which is actually a gallery or a store.
The inimitable Sandra Bernhard is celebrating her tenth year of holiday shows at Joe's Pub in New York City with "Sandy's Holiday Extravaganza: A Decade of Madness and Mayhem" December 26th - 31st with two shows each night.
HBO is sharing the first trailer for the tenth season of "Curb Your Enthusiasm" and it looks like Larry David is enlisting a number of stars for the latest installment of his comedy series.
The upcoming streaming service Quibi has announced a number of programs, including a gay sitcom based on "Pride and Prejudice," and recently revealed that there will be an animated series based on Andy Cohen.
Democrats propelled Trump's impeachment toward a vote by the full House, as the Judiciary Committee approved charges of abuse of power and obstruction of Congress in the constitutional and political storm that has divided Congress and the nation.
A list of the 10 best episodes of TV for 2019.
Multi-Grammy nominated Lizzo - who is also TIME Magazine's "Entertainer of the Year" for 2019 - chatted with openly gay Democratic 2020 hopeful and mayor of South Bend, Indiana, Pete Buttigieg, during a segment of "CBS This Morning."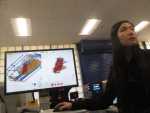 The federal government is enlisting the help of the private sector to develop better ways to spot and intercept illicit opioids shipped into the United States through the mail.
Midge Maisel will be making a comeback!
A five-year-old Nigerian law is being used to prosecute 47 men who were arrested and charged with "same-sex displays of affection."
Mass abuse of the opioid tramadol spans continents, from India to Africa to the Middle East, creating international havoc some experts blame on a loophole in narcotics regulation and a miscalculation of the drug's danger.
The Adam Sandler-starring "Uncut Gems" is one of the best films of the year and further cements the Safdie Brothers as two of the most important filmmakers currently working.
President Donald Trump is a master at putting words in the mouths of other people. It's one of his favorite forms of mockery and self-aggrandizement. He does not like it when a Democrat does the same, at his expense.
The state Fish and Game Commission on Wednesday approved protections for five of six populations of the foothill yellow-legged frog.
It's open enrollment — time to pick next year's insurance — for folks who buy it on their own and for many of us in our jobs. Lots of us aren't sure we know how to pick, and research shows: We're not wrong.
Unionized workers at Fiat Chrysler have voted overwhelmingly to approve a new four-year contract with the company.
Americans wake up on "the wrong side of the bed" 300 times a year, meaning only about 65 mornings are "good" ones — according to new research.
Federal regulators are setting up a new three-digit number to reach a suicide prevention hotline in order to make it easier to seek help and reduce the stigma associated with mental health.
Traveling for the holidays will include 12 disagreements for the average American, according to new research.
Check out these fun and amazing designs and sculptures from this year's Art Basel Design Miami.