Gay San Diego: The Latest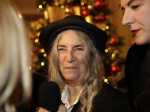 The gala season premiere of Puccini's "Tosca" starring Russian soprano Anna Netrebko and conducted by Riccardo Chailly received 15 minutes of applause in an evening that celebrated culture as a bulwark against political extremism.
Paris police skirmished Saturday with yellow vest activists who joined a wave of protests against the government's overhaul of France's retirement system, as highway blockades and train stoppages by other protesters disrupted weekend travel.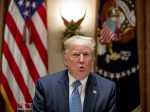 When certain associates and acquaintances of President Donald Trump get into hot water, he forgets he ever knew them.
Britain's Brexit envoy in Washington has quit, saying she no longer wants to "peddle half-truths on behalf of a government I do not trust."
As gallerists and collectors descend on Miami's most prestigious art fair by day, the Hollywood crowd knows it's all about the exclusive after parties.
Democratic presidential candidate Pete Buttigieg is calling on his former employer McKinsey & Co. to release a list of the clients he served and to free him from a nondisclosure agreement he signed when he worked there a decade ago.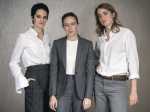 What's inside the frame and what's outside of it are electrifyingly synonymous in French filmmaker Céline Sciamma's "Portrait of a Lady on Fire."
House Democrats are bringing the impeachment focus back to Russia as they draft formal charges against President Donald Trump.
An executive with Netflix says the streaming giant has boosted its original content exponentially over the last several years and that will mean more action for its production hub in New Mexico.
There's no reason for the U.S. Supreme Court to weigh in on New Hampshire's "Free the Nipple" case, the state attorney general said this week.
Elizabeth Warren has spent weeks absorbing attacks from moderate rivals looking to blunt her surging campaign for the Democratic presidential nomination. Now, as the Massachusetts senator risks losing momentum, she's starting to hit back.
Good music in New York City's nightclubs offers endless opporTUNEities for feeling good, perhaps with even more awareness of that gratitude attitude instilled by the season.

A national lottery group agreed to pay $1.5 million to settle a lawsuit filed by an Iowa man who claimed that a $9 million jackpot he won in 2011 would have been bigger if the previous one hadn't been fixed by an insider.
The prospect of Russian interference in Britain's election flared anew Saturday after the social media platform Reddit concluded that people from Russia leaked confidential British government documents on Brexit trade talks.

Biden argued Tuesday that Buttigieg, the mayor of South Bend, Indiana, is riding his coattails in pushing for a "public option" government-insurance plan to be sold alongside private insurance.

A day after Uber revealed that more than 3,000 riders and drivers were sexually assaulted last year while using its service, attention is turning to what's next for the ride-hailing giant and whether its plans to improve safety go far enough.
In certain foods, a synergy between key ingredients can create an artificially enhanced palatability experience that is greater than any key ingredient would produce alone. Researchers call this hyperpalatability. Eaters call it delicious.
Recovery Unplugged 's co-founder and vision leader Paul Pellinger shares how to maintain gratitude and sobriety during the holidays.
Three years after being dumped by a rival, Scott Kirby will become the next CEO of United Airlines, where he has played a key role in leading a turnaround of the once-moribund carrier.
San Francisco's hottest drag queens glided onto the ice for Drag Queens On ice in Union Square. People were in for a treat as the drag queens took to the ice, many for their first time, as they skated and performed to holiday music.