Flavor Paper Launches Tom of Finland Wallpaper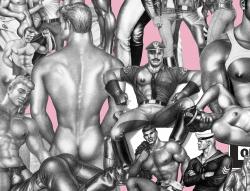 Does your home or apartment need a pick-me-up? The creatives at Flavor Paper have collaborated with Michael Reynolds, Hoffman Creative and the Tom of Finland Foundation to create two wallpaper prints (TAME and XXX) that celebrate the artistry of Touko Laaksonen.

A collaboration two years in the works, this carnal creation is a bold and ballsy tribute to the dynamic graphite and pencil drawings of Touko Laaksonen (aka Tom of Finland), the famed renegade Finnish artist known for his stylized homoerotic art and its profound effect on late twentieth-century gay culture and fetish lifestyle. From cops, cowboys, and bikers, to sailors, lumberjacks and leather men — there's a little something (and then some) for everyone.




Michael Reynolds is a New York-based creative director, curator, editorial stylist, book editor, and design consultant. He is the US Editor of Wallpaper* Magazine and Editor at Large for Architectural Digest USA. His first book, "TOM HOUSE — Tom of Finland in Los Angeles," is available through Rizzoli Publications.

Eric Hoffman founded Hoffman Creative a decade ago in New York, a firm creating brand identities for a range of clients with an ethos rooted in psychology and emotional intelligence.

Tom of Finland Foundation maintains the archive and former Los Angeles home of the 20th-century artist, known for his graphic, highly stylized illustrations. Dedicated to protecting and preserving erotic art and erotic arts education, the foundation continues to advocate the artist's significant influence on gay and LGBT culture.
Comments on Facebook