1 thru 10 of 1353 Stories
Officials in Key West took the initial steps toward banning the sale of sunscreens containing two ingredients that could be harmful to coral reefs.
Six in ten Americans are plagued by 'winter skin syndrome' according to new research.
Hair stylist Robin James offers easy tips for a fashion-forward style that looks natural yet still holds its shape.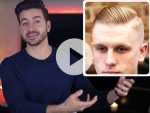 Style influencer Alex Costa showcases some of the hottest hairstyles for men for 2019.
After getting Israeli approval, a cafe owner recently imported hundreds of Garra rufa fish, a species of small freshwater fish nicknamed "doctor fish," from Turkey and added a fish spa section to his hookah bar and cafe in Gaza.
Glitter beards, Christmas earrings and festive knickers are among the ways millennials will celebrate the big day this year, a study found.
Model Brett Maverick Lange offers tips on how to look your best. (Hint: coconut oil.)
Facial plastic surgeons are taking out their crystal balls to share a glimpse of what we will see more, or less of, in the coming year in cosmetic surgery.
Controversial YouTube star and makeup guru James Charles took to Twitter Sunday to tell his fans and 2.35 million followers "stop showing up at my house."
We're in full-on holiday mode, and if you haven't completed your shopping, now is the time to kick it into high gear. Check out these five curated items that all come in under $100 for your favorite guy.
1 thru 10 of 1353 Stories