Wearing workout gear and carrying water bottles, fans of Supreme Court Justice Ruth Bader Ginsburg celebrated her 86th birthday Friday by exercising in front of the high court.
New York City is hosting its annual St. Patrick's Day Parade on Saturday, bringing together tens of thousands of marchers in one of the largest American celebrations of Irish heritage.
Unbowed by a congressional rebuke, President Donald Trump issued the first veto of his presidency on Friday in a demonstration that he is not through fighting for his signature campaign promise.
The legislation explicitly recognizes the discrimination that LGBTQ older people face when seeking housing and accessing spaces like senior centers. The bill also acknowledges the higher rates of poverty found among LGBTQ older people.
A bill to strengthen Utah's hate crimes statutes lost momentum the year Donald Trump successfully ran for the presidency, and has been in limbo ever since... until, that is, the recent addition of a new protected class.
In a crowded hallway at Scanlon Ice Rink, Logan Johnson slid into his pads as his brother Malakye and sister Wylla skittered around sticks and bags bulging with hockey equipment.
Since she took over as President Donald Trump's top housing official in the New York City area, Lynne Patton has been criticized for bringing a reality TV approach to what's traditionally been a bureaucratic job.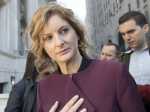 A New York appeals court has ruled that President Donald Trump isn't immune from a defamation lawsuit filed by a former "Apprentice" contestant who accused him of unwanted kissing and groping.
A Lyft driver allegedly locked a gay man in his car, insisting that they pray together, and then told the passenger he was going to "burn in Hell" because God "hates your sin."
A West Virginia high school official is at work once more after a partly-paid suspension involving an interaction with a male trans student.