Gay San Diego: The Latest
Chasten Buttigieg was a hit on the campaign trail, but now that he's landed in DC he is something of a fish out of water.
"Better Call Saul" star Bob Odenkirk collapsed on the show's New Mexico set on Tuesday and had to be hospitalized.
Beach volleyball has been one of the most popular sports at the Summer Games since it was added in 1996. It has fast action, a party atmosphere and some telegenic American stars.
The Republican Party's self-portrayal as champions of law and order is colliding with searing testimony from police officers themselves.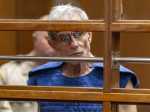 A federal jury on Tuesday convicted a wealthy California political donor on charges he injected gay men with methamphetamine in exchange for sex, leading to two deaths and other overdoses.
Police in Amsterdam said Tuesday that they are treating a brutal assault on a 14-year-old girl as a possible LGBTQ-related attack.
A U.S. appeals court has ruled against a web designer who didn't want to create wedding websites for same-sex couples and sued to challenge Colorado's anti-discrimination law.
Norton's new gay-inclusive novel is an unexpectedly insightful, character-driven delight that is as binge-worthy and compelling as any trending Netflix series.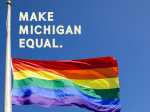 The Michigan elections board on Monday declined to certify an LGBTQ-rights ballot drive after determining it did not submit enough valid voter signatures.
The signs and banners are dotted along suburban commercial strips and hanging in shop windows and restaurants, evidence of a new desperation among America's service-industry employers: "Now Hiring, $15 an hour."
Simone Biles arrived in Tokyo as the star of the U.S. Olympic movement and perhaps the Games themselves. She convinced herself she was prepared for the pressure. That she was ready to carry the burden of outsized expectations.
Multiple Grammy nominee (and 2021 winner) Ledisi took control of the Hollywood Bowl stage on Saturday night to perform selections from her new album, "Ledisi Sings Nina," and honor the legendary Nina Simone.
The Biden administration has announced that almost all health insurers must cover the HIV prevention pill, known as PrEP, or pre-exposure prophylaxis, with no cost sharing — including for the drug itself and, crucially, for clinic visits and lab tests.
The NSA issued a "best practices" guide for mobile device security last year in which it recommends rebooting a phone every week as a way to stop hacking.
Most advice about retirement planning focuses on how to save enough money to replace your paycheck. But work provides us with a lot more than income.
Tesla's quarterly profit has surpassed $1 billion for the first time thanks to the electric car pioneer's ability to navigate through a pandemic-driven computer chip shortage.
Celebrity chef Mario Batali, his business partner and their New York City restaurant company have agreed to pay $600,000 to resolve a four-year investigation.
In what may be the first move for LGBTQ businesses in Boston, Jacques' Cabaret — a popular nightclub that caters to drag performers — announced that it has made changes to its COVID-19 protocols, which requires proof of vaccination.

A gay Cuban American journalist returns to his childhood home of Miami to explore Little Havana's legacy and the impact of queer Cuban culture.
Happy Dark Productions set sail on the San Diego Bay for their annual San Diego Pride closing party. Everyone danced the day and night away before headliner Todrick Hall closed out the night.