Gay San Diego: The Latest
A new report from the Williams Institute found that that a staggering 30 percent of lesbian, gay and bisexual young adults attempted suicide at least once.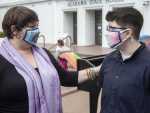 Transgender youth, parents and advocates on Tuesday urged the Alabama House of Representatives, as well as the state's governor, to reject legislation that would ban the use of puberty-blockers or hormones to treat transgender minors.
Arizona Gov. Doug Ducey on Tuesday vetoed legislation that would have made the state's sex education laws some of the strictest in the nation when it comes to teaching about LGBTQ issues.
The Montana Senate voted Tuesday to indefinitely postpone a bill that would have banned gender affirming surgery for transgender minors, effectively killing the proposal.
The office of North Carolina's Republican Senate leader said on Tuesday the chamber won't advance a controversial bill put forward this month by three GOP members that sought to limit medical treatments for transgender people under 21.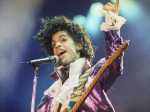 Paisley Park, where Prince lived and worked, will welcome back a select 1,400 fans Wednesday to mark the fifth anniversary of his death from inside his creative sanctuary.
Netflix's pandemic-fueled subscriber growth is slowing far faster than anticipated as people who have been cooped at home are able to get out and do other things again.
President Joe Biden said the conviction of former Minneapolis Police Officer Derek Chauvin in the killing of George Floyd "can be a giant step forward" for the nation in the fight against systemic racism. But he declared that "it's not enough."
Zoë Kravitz and Taylour Paige appeared in a lighthearted Instagram post over the weekend, with fans speculating over their potential relationship status.
"Hedwig and The Angry Inch" star John Cameron Mitchell has signed on for a title role as Joe Exotic in a recently announced TV project based on
Former Minneapolis Officer Derek Chauvin was convicted of murder and manslaughter for pinning George Floyd to the pavement with his knee on the Black man's neck in a case that touched off worldwide protests.
"Mean Girls" actor Jonathan Bennett recently said he believes he and his fiancé were turned away from marrying at a Mexican resort because they are gay.
Scott Rudin says he's "stepping back" from film and streaming projects, along with his Broadway productions, as the fallout continued for one of the entertainment industry's most powerful and prolific producers following renewed accusations of bullying.
Half of all adults in the U.S. have received at least one COVID-19 shot, the government announced Sunday, marking another milestone in the nation's largest-ever vaccination campaign.
While these loans are a small share of the overall number of mortgages issued each year, they are vital to low- and middle-income families who are trying to buy a home.
Volkswagen, Ford and Chinese brands unveiled new SUVs for China on Monday at the Shanghai auto show, the industry's biggest marketing event in a year overshadowed by the coronavirus pandemic.
The pandemic has torn a multibillion-dollar bite out of the fabric of Europe's fashion industry, stopped runway shows and forced brands to show their designs digitally instead.
Gender-affirming hormone therapy, which uses hormones to align an individual's physical characteristics with their gender identity, has been linked to blood pressure changes in transgender men and women, new research finds.
Albania's prime minister hopes to win reelection this weekend so he can work on making one of Europe's poorest countries a "champion of tourism."
In certain circles of San Francisco, a case of syphilis can be as common and casual as the flu.