Gay San Diego: The Latest
Josh O'Connor is now an international star for playing Prince Charles on "The Crown." Previously he starred in the acclaimed British indie LGBTQ drama "God's Own Country," where he went full-frontal, something you likely won't see on the Netflix series.
The real Christmas tree industry, which has been battling increased interest in artificial trees, is glad to see that more Americans appear to be flocking to fresh-cut evergreens this season, seeking a bright spot amid the virus's worsening toll.
The "gay panic" defense is still legal in more than two-thirds of states, with no federal protection.
Iconic singer and actress Cher is in Pakistan to celebrate the departure of Kaavan, dubbed the "world's loneliest elephant."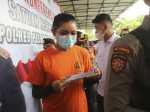 Indonesian police have moved a female transgender Instagram celebrity, Millen Cyrus, to a special cell following public outrage over her initial placement in a male detention cell after she was arrested as a suspect in a drug case.
Hopes of families for a quick release for six American oil executives detained in Venezuela for three years over an alleged corruption scheme have evaporated.
A moving letter from a young boy named Will asked Santa if God still loves him even though he's gay. The letter is pulling heartstrings all across the internet.
As coronavirus cases surge again nationwide the Supreme Court late Wednesday barred New York from enforcing certain limits on attendance at churches and synagogues in areas designated as hard hit by the virus.
A member of a NJ school board resigned on Tuesday after mistakenly zooming her toilet visit during a meeting. Last year she made headlines due to her anti-LGBTQ views on education.
The emotional toll wrought by the pandemic is jumping off pages in the deluge of "Dear Santa" letters now pouring into a post office in southwest France that sorts and responds to his mail from around the world.
Lawmakers in Taiwan got into a fist fight and threw pig guts at each other Friday over a soon-to-be enacted policy that would allow imports of U.S. pork and beef.
When questioned on his authenticity, Steve Grand tweeted globe emojis.
Three life-long friends are reinvigorating Wisconsin's historic hemp industry with a vertically integrated company producing some of the industry's best CBD products.
Size does matter, and smaller is more profitable, at least with men's incomes.
More than 3 million LGBT Americans are currently over 50, and that number is estimated to more than double over the next decade as Baby Boomers ride in on a rainbow-hued silver wave. And retirement presents many special issues for them.
General Motors is switching sides in the legal fight against California's right to set its own clean-air standards, abandoning the Trump administration as the president's term nears its close.
EDGE canvassed various industries to curate our favorite picks of the season. Some are splurge-worthy; others are affordable giveaways that won't break the bank. Above all, conscious giving remains one of the most prominent themes of 2020.
In Sioux Falls, South Dakota, nurses can make more than $6,200 a week. A recent posting for a job in Fargo, North Dakota, offered more than $8,000 a week. Some can get as much as $10,000.

The small town has made people feel safer than in big, crowded cities. Outdoor activities are Aspen's calling card, and the mountains were a perfect place to escape the doldrums of months-long lockdowns.

One former Black porn star says looking back after seven-plus years outside the industry, it's clear it was "a whole toxic environment of white supremacy and racism, completely all the time." Has anything changed?