Watch: Anderson Cooper Reveals How BFF Andy Cohen is Helping with Newborn Son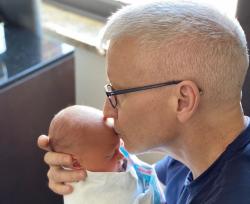 Anderson Cooper stooped by "The Late Show with Stephen Colbert" this week and opened up about becoming a first-time father, revealing that his BFF Andy Cohen is helping out a bit.

Cooper, who welcomed his son Wyatt Morgan Cooper last week, said that Cohen, who has a one-year-old son named Benjamin, is guiding him through the early steps of being a brand new dad, Page Six points out.

"He obviously knew about it well in advance, and he's been encouraging me all along," Cooper, 52, said. "And I figured, you know, if he can do it, that sort of gave me the final push."

On top of motivating and emotionally supporting Cooper, Cohen is giving the CNN anchor his son's hand-me-downs.

"He's actually really helped me, because my son is entirely wearing hand-me-downs from Andy Cohen's son," he said. "I was planning on going shopping, which I hate to do," he continued, adding that the pandemic derailed that strategy. "And then online shopping ... how do you do that, for baby clothes? Do you go to Buy Buy Baby or Amazon? I don't know! It just seemed weird. So he just gave me all the clothes."

Cooper went on to say that he hopes he raises Wyatt to understand that money doesn't grow on trees.

"I'm inherently cheap. I like a good value," Cooper said. "I wanted my son to be a Depression-era child who grows up wearing hand-me-down clothes."

"Well, god, I hope he doesn't get an opportunity to!" Colbert responded. "That's no longer just a metaphor."

Cohen was one of the many celebrities who congratulated Cooper on becoming a father last week. The journalist recently stopped by "Live with Kelly and Ryan" and revealed that he told his late mother Gloria Vanderbilt his plans of becoming a dad prior to her death.

Watch Cooper's "Late Night" chat below.
Comments on Facebook