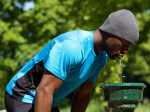 Experts weigh in on best practices to stay safe and hydrated this summer.
There are steps you can take — and signs to look for — to make you feel comfortable and help you decide whether to open the door and walk in.
Fourth of July gatherings, graduation parties, no-mask weddings, crowded bars — there are reasons the U.S. has racked up more than 155,000 coronavirus deaths, by far the most of any country.
"It's very much emerging science," said Dr. Philip Landrigan, director of the global public health program at Boston College.
Have you been diagnosed with COVID-19 but don't have any symptoms? Think again. What may be happening to your body on the inside reveals the ferociousness of this virus.
Most surveys have found that only about two-thirds of adults say they would probably get the vaccine — but could states make it mandatory?
The government and insurers vowed that tests would be dispensed for free. Now, those promises are being rolled back in ways that are creating turmoil for consumers, even as testing has become more plentiful.
As of early July, roughly 160 vaccine projects were underway worldwide, according to the World Health Organization. But will any of them work?
Part old-fashioned shoe-leather detective work, part social work, the goal is to interrupt the spread of the illness by reaching out to people who test positive — and people they have been in close contact with.
Elliot Truslow went to a CVS drugstore on June 15 in Tucson, Arizona, to get tested for the coronavirus. More than 22 days later, the University of Arizona graduate student was still waiting for results.