Review: Nicole Riegel's 'Holler' is Sensitive, Raw, and Personal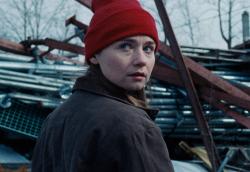 Directed and written by Nicole Riegel in her directorial debut, "Holler" is an excellent film. Starring Jessica Barden ("Penny Dreadful") as protagonist Ruth, it's a sensitive, raw depiction of the difficulties in an impoverished Midwestern factory town through the eyes of a smart and fiercely independent teenaged girl. With a keen eye for subtle details, Riegel based Ruth on her own adolescent experiences, and filmed in her hometown of Jackson, Ohio.
"Holler" opens with Ruth running, hauling trash bags, chased for stealing a man's trash, which she and her brother, Blaze (Gus Harper), sell to pay rent. Over a truck radio, a news broadcasts Trump promising "to bring jobs back to Ohio." Within the first few minutes, we see dire financial struggles in Ruth's family and community.
When Ruth gets into college, Blaze is ecstatic. Yet Ruth is reluctant to attend, as she doesn't want to leave her devoted brother, who dropped out of high school to raise her due to their mother's drug addiction.
An incredibly well-drawn character, Ruth is self-reliant and hard-working. She assertively speaks her mind, never shrinking from challenges or altercations. Ruth reads voraciously, and resorts to stealing library books since poor scholastic attendance due to work and issues at home prohibits her from checking out books. Jessica Barden is outstanding in the role, possessing a magnetic presence. She silently conveys tremendous emotion via her eyes and body language, communicating Ruth's weariness, rebellion, and determination. Barden expertly balances the tension between uncompromising toughness and vulnerability.
Ruth and Blaze start to work for Hark (Austin Amelio). Because manufacturing jobs are "drying up," Hark and his team steal scrap metal from buildings and sell it. After they endure having their water shut off and being evicted, Ruth and Blaze move in with Hark. Austin Amelio (fantastic on "The Walking Dead" and great in every role) is also exceptional as Hark; Riegel specifically wanted him for the role.
Filmed on 16mm, the cinematography gives a raw aesthetic to the film, enhancing its gritty themes. Numerous scenes display grueling, dangerous work, such as sawing pipes and metal sheets. One shot reveals Ruth washing her hands in the sink, leaving the bloody water from the cuts she suffers thanks to the sharp metal she handles. Ruth stands out at work: She's the only woman, and she dons a red hat, a bright hue amidst the washed out, bleak landscape.
When Ruth and Blaze visit their mother (Pamela Adlon, in a solid performance) in jail, she's aggressively unsupportive of Ruth's college acceptance. Ruth retorts that she didn't ask for money so she doesn't need her opinion. "Holler" intimately shows the ramifications of the opioid epidemic: Ruth's mother became an addict thanks to prescriptions for a work injury.
But it's not only their mother who is unsupportive of Ruth attending college. In a striking scene, Hark shares how he came to run his company and own his house. Hark scoffs at academia, saying, "I don't need some professor of sociology quizzing me on life below the poverty line." In another scene, a teacher talks to Ruth about "crushing" student loan debt, trying to steer her towards a local IT program. The camera remains static as they face each other, bisected by desks, visually representing how he and society try to thwart aspirations. Blaze is the only one supportive of Ruth going to college, wanting her to have a better life.
"Holler," which premiered at TIFF 2020, is evocative of "Winter's Bone" and "Mickey and the Bear," two excellent women-directed films about teen girls — one confronting poverty, the other with college aspirations but tethered to her father struggling with addiction.
"Holler" resonated with me. While I didn't grow up in a Midwestern factory town, I related to Ruth's struggles with poverty, an absent mother, and hesitancy to commit to dreams due to intractable barriers. Riegel's film eloquently tells this story with searing truth. We need more films respectfully illuminating financial hardships. Yet, the film ultimately left me with hope that Ruth will find her way.

"Holler" releases in theaters and on VOD on June 11, 2021.
Comments on Facebook