Who Saw Her Die?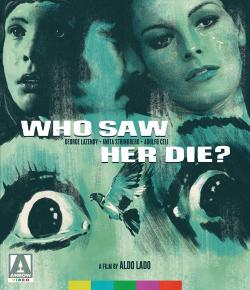 When children die graphically in films, it's both rare and shocking. That horrific thing occurs a handful of times in "Who Saw Her Die?," an Italian Giallo horror movie release presented on Blu-ray from Arrow Video. The film, from 1974, was part of a Giallo multi-movie DVD collection a few years back and debuts here in high definition.

After depicting the brutal murder of a young red-haired girl in the film's ingenious first few minutes, "Who Saw Her Die?" goes downhill and turns into a redundant and routine whodunit murder mystery movie. A serial killer is loose in Venetia and targets young female redheads. Franco (George Lazenby, "On Her Majesty's Secret Service") becomes desperate to find the killer of his daughter Roberta (Nicoletta Elmi, "Deep Red").

From here, numerous red herrings abound that try to throw the viewer off guard. Yet the obvious killer (who's shown uniquely point-of-view with a woman's veil) becomes quite easy to figure out. There's also a subplot featuring Franco's new girlfriend, which are mostly filler scenes to show the two actors in full frontal nude scenes.

And the ludicrous revelation of the killer at the end of "Who Saw Her Die?" makes this film just another run-of-the-mill Giallo thriller. This is for the Giallo movie aficionado only.

Bonus materials on Arrow's Blu-ray are mostly new, including interviews with director Aldo Lado in a featurette called "I Saw Her Die" and one with film critic Michael Mackenzie ("Giallo in Venice"). The segment with actress Nicoletta Elmi fares best and in "Child of Darkness", she describes her experiences as a child actor on the set of "Who Saw Her Die?"


"Who Saw Her Die?"
Blu-ray
$29.99
www.arrowvideo.uk.co
Ken Tasho is a Corporate Drone by day and Edge Contributor by night. He has a love for all things '80's and resides in the Wayland Square area of Providence, RI...but would much rather be sharing an apartment in NYC with '80's rock goddesses Pat Benatar and Deborah Harry.
Comments on Facebook