Cassandro, the Exotico!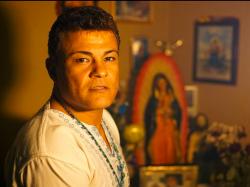 Cassandro The Exotica is a 49-year-old gay Mexican Lucha Libra that stands just 5'5' is his outrageous glittery costumes, but what he lacks in size he makes up with his giant ego.  This documentary on him was made by  French filmmaker Marie Losier on 16 mm mainly using a (shaky) handheld camera and was nominated for a Queer Palm Award at the  Cannes Film Festival.

It's probably a little too affectionate a profile, and Losier would have been much better digging in deeper into the crevices of this poor boy from El Paso who turned his life around to be a star.  Now with Cassandro reaching what should be the end of his wrestling career, he is determined to continue even though he has damaged his body so much over the years that not a single day goes by when he is not in severe pain.

Lucha Libra is as much a performance art as it is a wrestling match. Actually, to the casual observer seeing all the flamboyant costumes and masks it looks exactly like some sort of gay mardi gras event. However, It is far from that, and the sport is wracked with homophobia. It is to his credit that Cassandro never stopped fighting back. He refused to accept taunts and outright setbacks and prevailed to now be completely accepted as both the sport's leader and champion.

It is no secret that all the matches are carefully staged and well-rehearsed dramas, but - Cassandro's catastrophic injuries demonstrate - it is a system that seems to fail far too often. Cassandro himself offered no explanation to why he got hurt so frequently, and Loisir failed to tackle this glaring question.

Cassandro is a disarmingly charming man whose 26 years in the ring have hardly brought him great wealth, but as long as his bouffant hair is perfectly coiffed and his costumes have the longest trains and his fans still scream for him, then he is happy. 

There is no hint of any personal relationships or him ever wanting to deal with the reality that the very thing that has given him so much happiness will probably be the thing that kills him in the not too distant future.
Roger Walker-Dack, a passionate cinephile, is a freelance writer, critic and broadcaster and the author/editor of three blogs. He divides his time between Miami Beach and Provincetown.
Comments on Facebook