Copa 181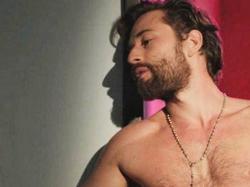 On DVD & VOD today!

- - - -

Taná (Carlos Takeshi) and Eros (Simone Mazzer) have hit a rough patch: Now that they live in the city, Eros is happier and has more opportunity to pursue signing gigs. But Taná is bored running a construction supplies store. What's more, their ardor has cooled, and Taná looks outside the relationship for thrills.

He finds them at "Copa 181" a gay sauna where hustlers like Leo (Caetano O'Maihlan) offer their affections at a price. Leo - who is married and has kids to support - pursues money at the sauna, but he's also embroiled in an emotionally volatile affair with trans sauna employee Kika (Silvero Pereira), a situation that could endanger both their jobs. It's also dangerous in that Leo uses drugs and has a tendency to get violent, especially when he feels pressed for money - which he constantly demands from Kika - or feels that his masculinity is in question. Theirs is a much hotter connection than that between Taná and Eros, but it's also far more turbulent.

Writer-director Dannon Lacerda takes his camera everywhere: To the streets, to Taná's home, to the sauna's cabins, and to a cabaret where Kika - a chanteuse, like Eros - entertains customers and rent boys alike. Once in a while, the camera lingers far too long on a scene that feels like padding, but when Lacerda finds a potent, charged moment he's in no hurry to leave - and that allows this movie more suspense and emotional resonance than one might expect. At the same time, Lacerda's choice to tell this story with broad strokes, rather than delving for details, allows the audience to use their imagination and fill in the blanks.

"Copa 181" is another well-made LGBTQ movie from Brazil, where the government, under self-proclaimed gay hater Jair Bolsonaro, has recently declared that government funds will now be withheld from cinema projects containing LGBTQ content. That's a shame, but also a challenge. Filmmakers and their audiences have their work cut out for them if they wish to defend freedom of expression - and this often-graceful film is worth supporting.
Kilian Melloy serves as EDGE Media Network's Assistant Arts Editor. He also reviews theater for WBUR. His professional memberships include the National Lesbian & Gay Journalists Association, the Boston Online Film Critics Association, The Gay and Lesbian Entertainment Critics Association, and the Boston Theater Critics Association's Elliot Norton Awards Committee.
Comments on Facebook