Retablo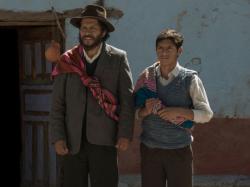 14-year-old Segundo (Junior Bejar Roca) lives in a remote area of Peru and his family, while not exactly poor by local standards, are hardly well to do. None of that matters too much to Segundo; his is a happy life. He enjoys a close relationship with his parents, especially his father, Noé (Amiel Cayo), who is acclaimed in the region as a "maestro" of the art of a kind of folk art that depicts families, religious scenes, or other tableaux. This kind of art gives the film its name: "Retablo."

As the film opens, father and son are surveying family that's posed in a line, as though for a portrait. That, in fact, is essentially what's going on, but the photo that's being taken is a mental one. Segundo proves himself capable of recalling the details of who's standing where and wearing what; it's from that mental image that a three-dimensional retablo will later be created, with figurines made from potato flour and then brightly painted and arranged in a custom-made box.

Such harmonious and vividly colorful scenes provide the backdrop for a far darker story. When Segundo happens to catch a glimpse of his father engaged in a gay encounter, his idea of the world - and of his family - starts to unravel. The happy kid turns moody, then begins acting out. He snaps at his mother, Anatolia (Magaly Solier); he neglects his chores. In one of the film's most spot-on moments, Segundo lies awake listening to his father make love to his mother (at her urging); the scene cuts abruptly to the next morning, as the young man angrily swings an axe while chopping wood. Passions abound, and for the people in this close-knit, self-consciously macho, and sometimes brutal culture, some of those passions cannot burn in the light of day.

When his best friend, a scrapper named Mardonio (Mauro Chuchon) suggests they quit school, leave their small community and go pick cotton, the prospect agrees with Segundo even though his departure would leave his family in the lurch. But then things go even more awry; what's left of Segundo's world comes crashing down, and he faces a crucial test in deciding how he's going to set about rebuilding his life.

Few coming of age films offer the emotional range and stark choices this one does, and in the film's young star, Junior Bejar Rocaco, co-writer and director Alvaro Delgado Aparicio has just the sort of remarkable talent he needs to pull it off. Harsh and heartbreaking, "Retablo" is also a beautiful and satisfying film.
Kilian Melloy serves as EDGE Media Network's Assistant Arts Editor. He also reviews theater for WBUR. His professional memberships include the National Lesbian & Gay Journalists Association, the Boston Online Film Critics Association, The Gay and Lesbian Entertainment Critics Association, and the Boston Theater Critics Association's Elliot Norton Awards Committee.
Comments on Facebook