Everybody's Talking About Jamie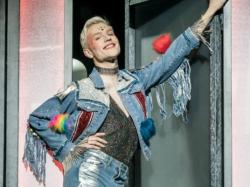 Jamie (John McCrae) is just turning 16, and the future looms large before him — especially since the end of school is coming up and the rest of his life, according to a computerized career profile, will be spent as a forklift driver. What no one knows — yet — is that Jamie has quite a different professional trajectory in mind: He wants to be a professional drag queen.

But soon everybody will be in on Jamie's secret... and when they are, "Everybody's Talking About Jamie" will, for good or ill, be the thing that defines the final days of school, and the final days before the prom.

Jamie's mother, Margaret (Josie Walker), is a single mother doing her best to provide for her fabulous, flamboyant, and openly gay son. Hard as it is to be the sole parent on the scene, what makes things even more difficult is a need to keep up a pretense that Jamie's father (Kan Christian) is interested in his son's life. In reality, dear old Dad isn't interested at all; he's focused on his new marriage and impending second shot at fatherhood. Dad — a homophobic lout who deeply scarred Jamie by shaming him at a young age, with the results still resonating in his psyche — is anything but delicate in sharing his opinions with Margaret, informing her that his new son will be a "real boy."

"This time it's planned," he snarls, during a scene that manages to be both brutal and pedestrian — brutal for the way it refuses to hold back emotionally, but cliched thanks to a spot of ham-fisted writing that makes Dad out to be a cardboard villain whole also giving the exchange feeling of a passage scripted with an eye to giving stage hands the time they need to complete an elaborate scene change.

Oh, yes, and that's the other thing about this out, proud, and exuberant musical: It's a filmed presentation of the musical stage play. As such, "Everybody's Talking About Jamie" finds a sweet spot between the two media, with multiple cameras moving, zooming, craning, and otherwise creating a cinematic sense of kinetic fluidity even while the theatrical nature of the show is preserved.

Such filmed plays aren't always successful; even standouts like "Our Town" and "Death of a Salesman" have their awkward moments. But film director Nick Morris and theatrical director Jonathan Butterell (who is also credited for coming up with the idea for the show, though the movie also has roots in a 2011 documentary called "Jamie: Drag Queen at 16") work so seamlessly hand in glove that this presentation feels like the best of both worlds. When the script or lyrics hit a dead spot, as happens here and there, it doesn't detract from the presentation — that is, you don't blame the unusual combination of theater and film. If anything, the film's theatrical energy carries it through the problem moments, and when the show hits a high — as with Jamie's moving rendition of "Ugly in This Ugly World," or Margaret's paean to the pains of motherhood "He's My Boy" — it works a treat.

This movie really is like going to an evening at the theater, complete with a 20-minute intermission. Scenes crescendo and then fade to black; the set design, Anna Fleischle, creates a large, cubical space that's multi-purpose enough to contain a school room, an apartment, a drag store, a drag-themed nightclub, and more. Lucy Carter's lighting design creates a sense of campy fun, with ceiling panels that flash like disco lights and dynamic elements of floor illumination. If this weren't a story about a budding drag queen, it would still retain a feeling of outsized, glamorous energy thanks to the design alone.

But this is the story of a budding drag queen, and McCrae nails the role with finely judged effervescence. Supporting his performance are Shobna Gulati as Marhe's supportive best friend Ray; Luca Shorthouse as Jamie's hijab-wearing Muslim friend Priti; Luke Baker as school bully Dean; Tamsin Carroll as a slightly embittered teacher named Miss Hedge; and Phil Nichol as Hugo, a.k.a. Loco Chanelle, a retired performer with a noir past who becomes Jamie's drag mother.

This is very different from a full cinematic musical, but thanks to top-rate music direction and Kate Prince's catwalk-ready choreography, the material's staged presentation works very much in its favor. This play on film makes that case that if everybody is talking about Jamie, it's because he's worth the buzz.
Kilian Melloy serves as EDGE Media Network's Assistant Arts Editor. He also reviews theater for WBUR. His professional memberships include the National Lesbian & Gay Journalists Association, the Boston Online Film Critics Association, The Gay and Lesbian Entertainment Critics Association, and the Boston Theater Critics Association's Elliot Norton Awards Committee.
Comments on Facebook