Top Story
UK's Channel Four released a first-look trailer and a still from Russell T. Davies' new series "It's A Sin."
Antoni Porowski, the Emmy-nominated food and wine host of Netflix's "Queer Eye," has designed a "sustainably-minded new capsule collection" in collaboration with J BRAND.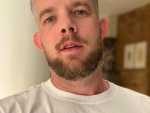 Out British actor Russell Tovey isn't sure if he's engaged to personal trainer Steve Brockman.
One of the films that's made a splash at this year's LGBTQ festivals is the Matt Fifer co-written and co-directed "Cicada," drawn from the lives of its two lead actors. Fifer chats with EDGE about facing life demons with art.
Shia LaBeouf sexily broods in a short film for Rainey Qualley's "Love Me Like You Hate Me." The film also features Rainey's sister, actress Margaret Qualley in a dramatic, contemporary 'pas de deux'.
Out rapper Lil Nas X is keeping fans occupied ahead of releasing new music, which he suggested will come next month for "Nasvember." In the meantime, he's been teasing fans with snippets of music, interviews, choreography and thirst traps.