1 thru 10 of 7048 Stories
A divided Supreme Court on Friday rejected an emergency appeal by a California church that challenged state limits on attendance at worship services.
None of these are legit, even though they were shared widely on social media. The Associated Press checked them out. Here are the facts.
Forbes magazine, which once declared Kylie Jenner a billionaire on its cover, says she no longer deserves the title, but Jenner is pushing back.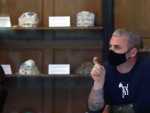 The National Museum in Prague has put on display the most visible symbol of the Czech Republic's response to the coronavirus - face masks.
Marijuana shops in many states have enjoyed brisk business during the coronavirus pandemic. In New England? Not so much.
The outbreak of the coronavirus has dealt a shock to the global economy with unprecedented speed. Following are developments Thursday related to the national and global response, the work place and the spread of the virus.
Levi's has released its latest Pride collection, adopting "Use Your Voice!" as a rallying cry, stating that this year's collection is all about maximizing self-expression.
President Donald Trump is preparing to sign an executive order Thursday aimed at curbing liability protections for social media companies, two days after he lashed out at Twitter for applying fact checks to two of his tweets.
A Minnesota venture capitalist said it was a mistake to question a group of black businessmen about being tenants in a building after the incident went viral on social media.
Now that reliance and uncertainty about a virus that's killed at least 20 workers and temporarily shuttered several plants fuels concerns about possible labor shortages to meet demand for beef, pork and chicken.
1 thru 10 of 7048 Stories