Harmony CBD: Necessity is the Mother of Invention
A desperately sick child. A mother who refused to take "no" for an answer. It was this call to action that motivated the launch of Harmony CBD, an organic American hemp company. The innovative product line, which includes organic hemp oils, topicals, capsules and more, has helped thousands of people like Janel Ralph's daughter, Harmony, reduce seizures due to a rare genetic condition. Over the past five years, Harmony CBDE has become a leader for its vertical and transparent business model, rising to the top of a quickly-crowding CBD industry.

"We never planned on starting a CBD company," says Harmony's vice president of marketing and web administration, and Harmony's old brother, Austin Sherman. "My sister was given a one-year life expectancy. She had gone through genetic testing and was on steroids that cost $100,000 per month, but even that was unreliable."

Ralph was ahead of her time, advocating for the legalization of the hemp plant for CBD, which was achieved in the 2018 Farm Bill. While simultaneously taking care of her daughter, who could have hundreds of seizures per month, Ralph persisted by meeting with local officials, attending government meetings, and tirelessly taking on institutions that failed to acknowledge what science had already documented: CBD has the potential to reduce seizures.

In recent years, additional studies have revealed that pharmaceutical-grade CBD can potentially reduce seizures and epilepsy. The University of North Carolina School of Medicine released a report in September 2019 showing that CBD "may alleviate seizures and normalize brain rhythms in Angelman syndrome, a rare neurodevelopmental condition." The Journal of Epilepsy Research wrote in a 2017 report that, "there is now class 1 evidence that adjunctive use of CBD improves seizure control in patients with specific epilepsy syndromes."

Harmony CBD is the first vertically integrated CBD company to gain USDA Organic certification. Product development begins with hemp sourced from an organic farm in South Carolina, which is then meticulously processed. The company follows Current Good Manufacturing Practice (CGMP) regulations as established by the FDA. Harmony CBD is on its sixth generation of plantings since inception but also practices regenerative agriculture, allowing fields to "take a break" between crops, which adds to the health of the soil.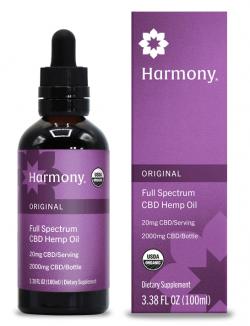 Who Should Use CBD?
Although Harmony CBD was created with a specific use in mind, many people from all walks of life have discovered the benefits of essential life oils.

Organic Hemp Oils
Harmony CBD's full-spectrum oils contain 28 cannabinoids, which are naturally occurring compounds that can be found in the hemp plant. Though you may be familiar with THC, which has psychoactive effects, a wealth of other cannabinoids such as Cannabidiol (CBD), Cannabigerol (CBG) and Cannabichromene (CBC) may have health benefits, including pain relief, reduced anxiety, circulatory health and more.

Topicals
Many people turn to hemp-based topical products for pain management as well as skin conditions. The anti-inflammatory properties may help with arthritis and muscle aches by raises the endocannabinoids in your body. Dermatological issues such as acne, eczema, rosacea and itchy skin can also be treated with a full-spectrum CBD hemp topical cream.

Harmony for Pets
Animal shelters across the country have seen an increase in adoptions since the onset of COVID-19. Many first-time pet owners may not be prepared for their new four-legged friend's health issues. Full-spectrum CBD hemp oil for pets may be used for its anti-inflammatory properties, cardiac benefits, anti-nausea effects and appetite stimulation. The American Kennel Club Canine Foundation is also funding a study to evaluate its use in the treatment of drug-resistant epilepsy in dogs.

Click here find out more about Harmony CBD, or call 843-331-1246 for a free consultation.



Disclaimer: These products have not been evaluated by the Food and Drug Administration. These products are not intended to diagnose, treat, cure or prevent any disease.

Sponsored content.
Comments on Facebook