Top Story
Floridians and others around the world are remembering the three-year anniversary of a massacre at a gay nightclub on Latin night that left 49 people dead.
1 thru 10 of 48552 Stories
It's a campaign focus this weekend on economic issues important to the black community for some of the Democratic presidential candidates.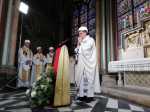 The archbishop wore a hard-hat helmet, burnt wood debris was still visible and only about 30 people were let inside, but Notre Dame Cathedral on Saturday held its first Mass since the devastating April 15th fire.
Voting rights activists argue that newly discovered 2015 correspondence between a GOP redistricting expert and a current Census Bureau official bolster arguments that discrimination motivated efforts to add a citizenship question to the 2020 census.
Shoppers and employees have described terror and chaos as shots rang out inside a busy California warehouse store as a gunman in an argument near the freezer section opened fire — killing one man, wounding two and sparking a stampede.
Planned Parenthood is building the stage for another possible fight over abortion in Alabama: a large women's clinic that's under construction despite the state's passage of a near-total ban on abortions.
None of these is legit, even though they were shared widely on social media. The Associated Press checked them out. Here are the real facts.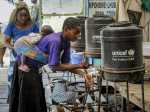 The World Health Organization on Friday said the Ebola outbreak is an "extraordinary event" of deep concern but does not yet merit being declared a global emergency.
Liberal environmental activist and lawyer Zuzana Caputova was inaugurated Saturday as the first female president of Slovakia.
The cast of Fox & Friends showed their support for the Texas "Save Chick-fil-A" Bill Wednesday with a segment catered by Chick-fil-A.
Julian Castro is the latest Democratic presidential contender to follow the trend of criticizing Fox News Channel while appearing on the network for a town hall.
1 thru 10 of 48552 Stories