No Gold Star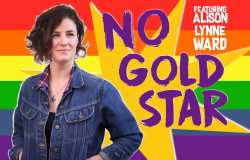 When:
Thursday July 26 at 7:30PM

Where:
XY Vancouver
1181 Davie Street, Vancouver British Columbia

Map It

About:

No Gold Star (@nogoldstar) Written and Performed by Alison Lynne Ward (8 Monkeys Productions) Co-created and Directed by Tara Travis (Monster Theatre) Vancouver, BC.

This new play in creation is the unofficial sequel to Alison's hit "1/4 Life Crisis" ("Revealing, relatable and had the audience falling out of their chairs with laughter..." Plank Magazine, TO).

True to her signature style, Alison's autobiographical tale of being a late-blooming lesbian is fabulously frank and candid, with moments of poignancy amid the laughs. Don't miss this inspiring show about finding truth in the first day of the rest of your life.