Gay San Diego: The Latest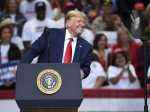 As President Donald Trump describes it, the U.S. swooped into an intractable situation in the Middle East, achieved an agreement within hours that had eluded the world for years and delivered a "great day for civilization." Not everyone bought it.
"For a whole year the Turks threatened us," Hanna said. "I kept saying we should escape, because with the Turks there is no security. But my husband always said there are Americans, Britain, France, and they won't abandon us."
The shifting White House explanation for President Donald Trump's decision to withhold military aid from Ukraine drew alarm Friday from Republicans as the impeachment inquiry brought a new test of their alliance.
Damon Lindelof didn't take lightly the challenge of adapting the most acclaimed graphic novel of all time.
The portion of Americans with no religious affiliation is rising significantly, in tandem with a sharp drop in the percentage that identifies as Christians, according to new data from the Pew Research Center.
A new bulletproof memorial to Emmett Till was dedicated Saturday in Mississippi after previous historical markers were repeatedly vandalized. The brutal slaying of the 14-year-old black teenager helped spur the civil rights movement.
Raids on people's homes are part of an expanding push by Pakistan's security services to crack down on anyone who voices criticism of their activities.
Three years of simmering frustration inside the State Department is boiling over on Capitol Hill as a parade of current and former diplomats testify to their concerns about the Trump administration's unorthodox policy toward Ukraine.