Top Story
EDGE writer John Amodeo unwittingly roused jazz & cabaret star Ann Hampton Callaway for a recent conversation. The singer heads to the East Coast next week for dates in NYC & Bosto...
An exhibition of art about Michael Jackson is opening in Germany amid fresh controversy over the singer's alleged abuse of children.
David Letterman says he stuck around on network television about 10 years too long.
Not long after her split up from fiancé Christian Carino, Lady Gaga is getting close to actor Jeremy Renner, according to a report from Us Weekly.
Good news and bad news for fans of "Schitt's Creek."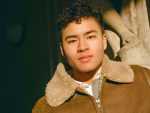 Marvel may still be looking for the actor who's going to play its first openly gay super-powered crime fighter, but DC has taken the step of hiring openly trans actor Chella Man for the role of bisexual superhero Jericho on "Titans."