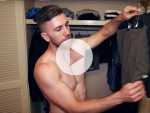 YouTube fitness expert Tyson Edwards offers his favorite picks for a stylish workout.
Fitness and style YouTuber Brett Maverick delivers a workout so you can be superhero strong in 2019.
The authors of "Whats Your Season? Healing Principles and Recipes for Your Body Type" offer a fresh approach to optimize your health
Two in five Americans feel "too old" to work out, with 41 officially being the age Americans feel too old to exercise.
Fitness expert Obi Vincent offers this great workout that can be easily done wherever you work out: home, gym, Crossfit box, powerlifting gym or even at a hotel gym.
If you're planning to try to lose weight in 2019, you're sure to find a fierce debate online and among friends and family about how best to do it. It seems like everyone has an opinion, and new fads emerge every year.
Fitness Together's Derek Maxfield offers five tips on how to burn calories outside this winter, and EDGE chimes in with some of our favorite East Coast destinations to do it!
Bernardo and Adam share their weekend workout. It's all about back and biceps!
Fitness expert Francis Courbron offers his tips for bulking up below the belt.
There are many elements that go into a great sexual encounter. But when the moment comes to perform you want to know you have the strength and stamina to bring your A game and enjoy a strong finale.