Gay San Diego: The Latest
Evangelist Franklin Graham, who has condemned gays and lesbians as sinners, tried to bring his anti-LGBT beliefs to Key West. He was met with around 150 protesters who support the LGBT community and welcome them with open arms.
Martha Wash started with Sylvester, then went on to a mega-hit with "It's Raining Men," among the many hits in her five-decade career. EDGE spoke to the disco diva as she sets out on Caribbean cruise next month.
Hillary Rodham Clinton has advice for Democratic voters faced with an unsettled field of presidential contenders: pick a winner.
A jury of seven men and five women was selected Friday for Harvey Weinstein's rape trial after an arduous two-week process, setting the stage for testimony to begin in the next week.
Gloria Gaynor sees the hand of God in every aspect of her life, particularly when it comes to the tune that may be the most famous disco song every created.
There's no apparent impeachment fatigue among viewers of MSNBC's Rachel Maddow.
Help keep 2020 resolutions going strong the whole year long with the following wellness products.
The series was four years in the making, with filmmakers exploring 40 different countries and bringing back more than 2,200 hours of footage.
Kevork Tontian met the man he wanted to spend the rest of his life with behind bars. And not even his freedom was enough to keep him away from Wemson Gabral da Costa.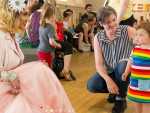 In Missouri, a Republican lawmaker has drawn up legislation that proposes to punish libraries and their staff for drag queen story hours or other "age-inappropriate" content.
A federal judge on Thursday indefinitely blocked a new California labor law from applying to more than 70,000 independent truckers, deciding that it is preempted by federal rules on interstate commerce.

San Diego, CA
A fresh set of young eyes on the old problem of the plight of the LGBTQ community in Russia.
Director Sidney Lumet's underrated 1960 drama "The Fugitive Kind," starring Marlon Brando and adapted from a play written by Tennessee Williams, is now available on Blu-ray with a sturdy HD presentation by the Criterion Collection.

Starbucks has a point to prove: There's more to the company than selling $4 lattes to rich people.
People insist they have spotted fleets of large drones crisscrossing rural America's night sky, their mission mysterious, raising questions that have veered into conspiracy theories and launching an investigation.
Many deductibles reset Jan. 1, forcing patients to pay thousands of dollars for care or prescriptions before most insurance coverage starts.

Fiat Chrysler is in talks with the Chinese company Foxconn to develop and manufacture battery-powered vehicles, the U.S.-Italian automaker said Friday.
Chip and Joanna Gaines' new Magnolia cable network will debut on Oct. 4, with a dozen shows currently in production.
The sun has glowed an eerie red behind a brown shrouded sky for weeks over Australian metropolitan areas that usually rank high in the world's most livable cities indexes.

An Air Canada flight bound for Australia diverted to Honolulu over the weekend because of a dead passenger.
The Boxers 2020 Calendar features twelve months of undie perfection that is sure to brighten every day of the new year.