Gay San Diego: The Latest
Alabama Senate candidate John Merrill has drawn criticism for telling prospective supporters that "homosexual activities" on television are a sign of cultural decline, and for criticising the "socialist agenda" that's being advanced by democrats.
A gay British man has taken to social media to call out the group of thugs who he says brutally beat him and left him in the street after he confronted them about their having hurled anti-gay verbal abuse.
Israel's education minister has apologized for controversial remarks about homosexual "conversion therapy" and intermarriage among Diaspora Jews that drew widespread criticism in Israel and the U.S.
Lana Del Rey is reportedly begging to play Priscilla Presley in Baz Luhrmann's upcoming Elvis Presley biopic.
Soccer star Cristiano Ronaldo is showing off his body in a new campaign for his underwear brand CR7.
Memphis Grizzlies basketball player Dwight Howard says he's learned first-hand what it's like for LGBTQ people in America right now - even though, Howard says, he's not gay.
Disney's live-action "The Little Mermaid" may have found its Prince Eric in singer Harry Styles.
Researchers who have tracked drug use for decades believe the new meth crisis got a kick-start from the opioid epidemic.
The German government is proposing a measure to make measles vaccinations mandatory for children and employees of kindergartens and schools.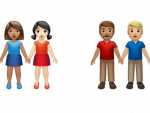 Apple and Google are rolling out dozens of new emojis that of course include cute critters, but the tech giants also continue to push the boundaries of inclusion and diversity.
The Environmental Protection Agency skirted some of its usual procedures and ethics rules when it overhauled key agency advisory boards, slashing the numbers of academic scientists on the panels and appointing more industry figures.
Daniel Nolasco' throughly entertaining documentary will appeal to any gay man regardless of the fact that they have never ever thought of joining the leather community.
Newly released federal data shows how drugmakers and distributors increased shipments of opioid painkillers across the U.S. as the nation's addiction crisis accelerated from 2006 to 2012.
The top finance officials of the Group of Seven rich democracies are arriving at Chantilly, in a chateau north of Paris, at the start of a two-day meeting aimed at finding common ground on how to tax technology companies and other issues.

Here are four beach destinations where you could soak up the sun using points and miles.
Colonial-era Korean laborers are seeking a court's approval for the sales of local assets of their former Japanese employer after it refused to comply with a court order to compensate them for forced labor decades ago.
The Tour de France loves castles. Not a day passes without the TV cameras zooming in on one of the country's magnificent châteaux along the race route, conjuring up dreams of living the high life, perhaps with a glass of Champagne in hand.
Taxpayer-funded family planning clinics must stop referring women for abortions immediately, the Trump administration says.
Thousands of people have been evacuated from a festival area on a Croatian island after a fire broke out in a nearby forested area.
San Diego held its LGBTQ Pride celebration at Balboa Park with four stages and over 100 performers and community activists.