Top Story
In a strange new video uploaded to her YouTube channel Sunday, disgraced comedian Roseanne Barr claimed she is queer.
1 thru 10 of 2114 Stories
"Miracle in Rwanda" helps us better understand how one woman survived, and also how a painful struggle with her faith led her to find some inner healing through the forgiveness of her oppressors.
The campy "Beach Blanket Babylon" musical revue that has been a must-see for San Francisco tourists for 45 years is coming to an end.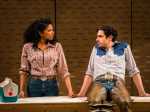 Like a high school reunion where you reacquaint yourself with old flings and someone actually looks better than they did before, the nipped and tucked "Oklahoma!" reboot deserves a page among The Best Plastic (Theater) Surgeons in America.
As another season on Broadway draws to a big finish, the opening of "Hadestown" marks a milestone of sorts — it's the only new musical directed by a woman, Tony Award-nominee Rachel Chavkin.
Two dozen nominations of outstanding actors, directors, designers and ensembles were announced today by The Boston Theater Critics Association (BTCA), with winners to be revealed at the 37th Annual Elliot Norton Awards on May 20.
Shakespeare's patriarchal power play gets a Broadway reboot, thanks to Glenda Jackson's star turn in the title role.
We can say without reservation that pretty much everyone should see "The Jungle" if the opportunity presents itself.
"The Inheritance", an epic drama about gay lives in New York, and musicals "Come From Away" and "Company" were the big winners at British theater's Olivier Awards on Sunday, receiving four trophies apiece.
A co-production between Ultra Productions and Warner Bros. Consumer Products, the new art installation /selfie museum pop-up "I Like Scary Movies" is a sinisterly clever way to celebrate your favorite Warner Bros. scary movies.
Playwright-performer Heidi Schreck isn't only expanding our definition of America's seminal document; she's also redefining what a play can be.
1 thru 10 of 2114 Stories