Megastar Michael Jackson's musical legacy has been getting critically reappraised after a new documentary rekindled allegations of child sexual abuse, but at least two music museums in Detroit and Tennessee aren't scrubbing the him from their exhibits.
A photo of a statue of a shirtless Abraham Lincoln is going viral, thanks to Twitter users who are not holding back their thirst for the depiction of the 16th president of the United States.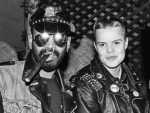 The GLBT Historical Society and Museum is presenting the exhibition 'SoMa Nights: The Queer Nightclub Photography Of Melissa Hawkins,' curated by photographer Hawkins and nightlife historian Marke B.
It seems Facebook can be friends with a topless Venus after all.
A Geneva art museum says Facebook prohibited it from promoting an upcoming exhibit with images of two statues — a half-naked Venus and a nude, kneeling man.
The New York Botanical Garden has announced 2019 as its year of #plantlove. Exhibitions, programs, and projects will explore the essential connections between plants, people, and the environment.
The V&A exhibit traces the influence of Dior over seven decades and showcases dozens of spectacular couture gowns.
After the smashing success of its Alexander McQueen show, London's V&A Museum is looking to draw big crowds with another major fashion exhibition — this time focusing on Christian Dior.
The University of Notre Dame will cover murals in a campus building that depict Christopher Columbus in America, the school's president said.
An art exhibit in Israel featuring a crucified Ronald McDonald has sparked protests by the country's Arab Christian minority.