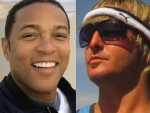 A Hamptons bartender has filed suit against openly gay CNN anchor Don Lemon, claiming that Lemon put his fingers under the bartender's nose after handing his own junk while asking the bartender about his sexual preferences.
Author Nicholas Sparks was balancing his entertainment career with overseeing the private Christian school he founded in his North Carolina hometown when he concluded the school's new headmaster was a failed experiment, he testified in a federal lawsuit.
Former Disney kid Bella Thorne is making her directorial debut — on Pornhub.
Authorities have made an arrest in an attack on comedian Andy Dick outside a New Orleans nightclub where he had performed.
A day after Jay-Z announced that his Roc Nation company was partnering with the NFL, he explained he still supports protesting, kneeling and NFL player Colin Kaepernick, but he's also interested in working with the league to make substantial changes.
Reality television stars Todd and Julie Chrisley pleaded not guilty Wednesday to tax evasion and other federal charges.
American rapper A$AP Rocky was found guilty of assault Wednesday by a Swedish court, six weeks after a street brawl in Stockholm that had attracted the attention of U.S. President Donald Trump.
Bonnie Bartlett has been a working actor for more than 60-years; and, at 90, is still working. She may be best-remembered for her ongoing role on "Little House on the Prairie." EDGE spoke to Bartlett about her career.
IMDb has changed its stance on removing birthnames from its database, a victory for trans actors and actresses who claimed the involuntary publication was a form of "deadnaming."
Miley Cyrus' husband is wishing her "nothing but health and happiness" days after a representative for Cyrus announced their separation.