Joyful Noise
Queen Latifah and Dolly Parton power "Joyful Noise," writer/director Todd Graff's ("Bandslam") movie about a church choir struggling between the pull of the traditional and the push of the youthful and contemporary.

During the Great Depression, movies provided relief by opening up a portal, as though by magic, to worlds of adventure, romance, and imagination. The films of the Great Recession have followed suit, though they have tended to be a little more self-aware. Yes, these are tough economic times; but the movies are still here to give us hope.

In the case of this movie, set in a small Georgia town, it's God (or at least faith) and hymns to Him that serve as a balm to the victims of a battered local economy. The gospel songs are delivered to churchgoers and, as a sideline, to gospel music enthusiasts by the congregation's choir, who, try as they might, never seem to advance beyond the regional semifinals. It's a tossup as to whether annual defeat at the hands of what seems to be a megachurch, or the devastated condition of Main Street, are harder on the townsfolk. "I feel like God's been using me for target practice lately," moans one member of the choir, a fellow named Caleb (Andy Karl), after his family's hardware story closes down. At another juncture, Walter (Dexter Darden), a teenager suffering from Asperger's declares his hatred for a God who would answer his mother's devotion by so afflicting him.

In both cases, it's Walter's mother who insists that the faithful refrain from such thoughts and feelings, and place their trust in the Almighty. Who is this fount of piety? Her name is Vi Rose (Queen Latifah), and it's clear that her devotion is what gets her through her days. Husband Marcus (Jesse L. Martin) has re-upped with the Army and won't be home for years to come; the church choir she directs keeps wanting to bring pop music into the repertoire; and daughter Olivia (Keke Palmer) is sweet sixteen and starting to attract attention from young wolves like Randy (Jeremy Jordan), the typical movie bad boy who, because he's been exiled from a troubled home in the big city, is viewed with suspicion by local authority figures like the church pastor and the town cops.

Randy also happens to be the grandson of Vi Rose's arch-nemesis, G.G. (Dolly Parton), which counts as another strike against the teen hunk. However, when Randy and Olivia catch sight of one another during a choir rehearsal, youthful hormones kick in and there's no force on earth that's going to keep the kids apart. But who has time to police horny teens? There's a show to put on!

The plot is tissue-thin, the characters are one-dimensional, and the screenplay wends its way from one prefab beat to the next in predictable fashion. What is less predictable is how the script incorporates fantasy and dream sequences along with musical interludes; both Queen Latifah and Dolly Parton get soulful numbers during which everything else screeches to a halt. Then there are the various subplots that sketch out the lives of the choir members (one of them sleeps with a man only to find him dead in the morning; will she ever get lucky again, or forever be cursed as "Tap this and die!"?).

These diversions are minor, and unfold speedily and without much nuance, but they do liven things up. Much more central to the movie is the romance between Olivia and Randy, as well as Randy's big brotherly relationship with Walter. (Randy can sing and play the piano like a pro: Not bad for a kid whose mother "told me I was stupid so often I started to believe her" before she chucked him out of the house altogether).

There are moments of painful, if fleeting, realism, but the movie retreats from them in a hurry lest they melt its cotton candy texture. Scenes like a strained and utterly unbelievable fight between Vi Rose and G.G. in a diner (bread rolls fly and angry dialogue is delivered in a monotone) are much more par for the course, and the movie sticks strictly to the rules of its formula: Grief, rage, jealousy, and other powerful, dark emotions are referenced and even put on display here and there, but they hardly make a dent in the narrative fabric.

At least the stripe of Christianity depicted here is a kinder and gentler one, understanding of (rather than excoriating toward) human folly and weakness. This is a church one might not mind belonging to, despite its plainly fantastical elements: The fact that none of the choir members seem to be gay, for one thing, and the curious (but, for movies such as this, inescapable) fact that though we see the group rehearsing quite a few songs, we never glimpse the elaborate number with which they finally dazzle the audience (and the judges) until the final championship performance.

This is the feel good movie of the fortnight. Enjoy it while you can, if indeed you are of a mind to, because no one will remember it in a month.
Joyful Noise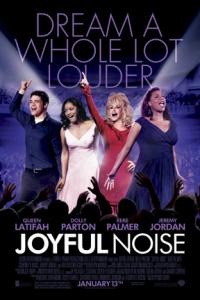 Info
Runtime :: 117 mins
Release Date :: Jan 13, 2012
Language :: English
Country :: United States

Kilian Melloy serves as EDGE Media Network's Assistant Arts Editor. He also reviews theater for WBUR. His professional memberships include the National Lesbian & Gay Journalists Association, the Boston Online Film Critics Association, The Gay and Lesbian Entertainment Critics Association, and the Boston Theater Critics Association's Elliot Norton Awards Committee.
Comments on Facebook